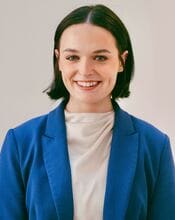 Ellen Johnston
Ellen is a dynamic and driven trial attorney at Rob Wiley, P.C. With a strong foundation in writing, counseling, and law, Ellen is well-equipped to handle a diverse range of legal matters and advocate tirelessly for her clients.
Ellen completed her undergraduate studies at Auburn University, earning a Bachelor of Arts (B.A.) in Public and Professional Writing, complemented by a minor in Counseling, showcasing her dedication to understanding and empathizing with people's needs—a quality that greatly enriches her legal practice. This unique educational background equipped her with invaluable communication and interpersonal skills, setting the stage for her legal career.
Motivated by a desire to make a tangible difference in people's lives, Ellen pursued her Juris Doctor (J.D.) at Tulane Law School. At Tulane, she excelled academically and further honed her legal writing and analytical abilities. During her time at Tulane, she excelled in the Trial Advocacy Program, receiving prestigious awards for ranking within the top 10% of her class. She was also licensed to practice law by the Louisiana Supreme Court as a Student Attorney in the Juvenile Advocacy Clinic. This invaluable experience allowed her to advocate on behalf of young individuals, honing her skills in legal research, negotiation, and litigation. These accolades are a testament to her outstanding legal skills and dedication to mastering trial advocacy.
Ellen's ability to effectively communicate, strategize, and tirelessly advocate for her clients sets her apart as an attorney and her ability to empathize with her clients and understand their unique perspectives enables her to provide personalized and effective legal strategies. She prides herself on providing personalized and compassionate representation, ensuring her clients feel supported and empowered throughout the legal process.
Education
J.D., Tulane Law School
B.A., Auburn University
Jurisdictions Admitted to Practice Texas

Achievements
Tulane Law School, Scholarship
Tulane Law School Juvenile Advocacy Clinic, Student Attorney
Tulane Law School Trial Advocacy Award
Auburn University, B.A. in Public and Professional Writing, minor in Counseling