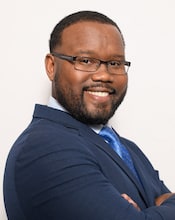 Deontae D. Wherry
Deontae D. Wherry is a trial attorney in the Dallas office of Rob Wiley, P.C. Prior to joining our firm, Mr. Wherry worked as a litigation attorney, zealously advocating for clients in civil, criminal, and family law cases. Mr. Wherry is dedicated to protecting the rights of employees and providing sound guidance to help individuals through the legal process.
Mr. Wherry represents employees with various types of claims, including Title VII of the Civil Rights Act, the Family Medical Leave Act (FMLA), the Age Discrimination in Employment Act (ADEA), the Americans with Disabilities Act (ADA), and the Fair Labor Standards Act (FLSA). Mr. Wherry represents employees in various forums that include state court, federal court, and administrative proceedings before the Texas Workforce Commission and the U.S. Equal Employment Opportunity Commission.
Understanding that every case is different, Mr. Wherry applies a unique approach to each case by listening to his clients, identifying the legal issues, analyzing the facts, and developing a game plan that is strategic and pointed to meet clients' goals. This approach gives Mr. Wherry the ability to aggressively and passionately advocate for his clients from the beginning, so he can ensure that justice is served.
Mr. Wherry is a proud Red Raider. Mr. Wherry graduated from Texas Tech University, obtaining his Bachelor of Arts in Political Science. After receiving undergraduate degree, Mr. Wherry relocated to our nation's capital to work on Capitol Hill. Working with both policymakers and attorneys every day, Mr. Wherry quickly realized it was time for him to pursue his childhood dream of becoming attorney. In 2017, Mr. Wherry received both his Doctor of Jurisprudence and Master of Business Administration from Texas Tech University School of Law and Texas Tech's Rawls College of Business. While in law school, he honed his advocacy skills through his participation on national mock trial teams and the Board of Barristers. Mr. Wherry accredits his passion for being in the courtroom to his national team experience. Additionally, he gained invaluable legal research and writing experience by serving as an Articles Editor for the Business & Bankruptcy Journal. In both law school and college, he demonstrated a commitment to fighting injustice and community service through his participation in numerous organizations.
Mr. Wherry is honored to have the opportunity to represent Dallas employees in their employment disputes.
Mr. Wherry is licensed to practice law in the state of Texas and the Federal District Courts for the Northern, Eastern and Southern District Courts of Texas. Mr. Wherry is an active member of the Dallas Bar Association, the Dallas Association of Young Lawyers, the J.L. Turner Legal Association and the National Employment Lawyers Association.
Education
J.D., Texas Tech University School of Law, 2017
M.B.A, Texas Tech University, Rawls College of Business, 2017
B.A., Texas Tech University, 2013
Jurisdictions Admitted to Practice Texas

Bar Associations and Other Memberships
Dallas Association of Young Lawyers
Member Since: 2018
Dallas Bar Association
Member Since: 2018