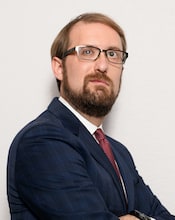 Austin P. Campbell
Austin P. Campbell is a Trial Attorney in the Dallas office of Rob Wiley, P.C. Since joining the law firm in 2016, Mr. Campbell has spent his career assisting employees with a wide range of work-related issues—everything from combating illegal discrimination to obtaining unemployment insurance and resolving contract disputes. His day-to-day practice has centered mainly on helping individuals with claims involving age and disability discrimination, reasonable accommodations, Family and Medical Leave Act ("FMLA") interference, and various forms of unlawful retaliation.
While protecting his clients' rights in both state and federal courts, Mr. Campbell has represented employees in numerous mediations, depositions, and hearings. Mr. Campbell acted as lead counsel in an arbitration and a week-long Equal Employment Opportunity hearing for a federal worker. He also advises employees on negotiating severance agreements and how to navigate administrative processes, such as those required by the Equal Employment Opportunity Commission, the Occupational Safety and Health Administration, or the Texas Workforce Commission. In pursuing his clients' claims, Mr. Campbell has stood up to employers as varied as Fortune 500 companies, startups, federal agencies, cities, and school districts.
Mr. Campbell is licensed to practice law in all state courts in Texas and Tennessee. He is also licensed to practice in federal courts in the Northern and Eastern Districts of Texas. He is a member of both the National Employment Lawyers Association and the Texas Employment Lawyers Association.
Mr. Campbell received his Juris Doctorate from Vanderbilt University School of Law in Nashville, Tennessee, in 2016. At Vanderbilt, Mr. Campbell was on the Dean's List and was an Articles Editor for the Vanderbilt Journal of Transnational Law. The journal published his student note, an article entitled Riding a "Friendly Elephant?" How African Nations Can Make the Best of Economic Partnership with China, in March 2016.
Mr. Campbell discovered a passion for helping people seek justice in the often-challenging world of employment law at Vanderbilt, where he was a member of the Labor and Employment Law Society and the Civil Practice Clinic. In the Civil Practice Clinic, under the supervision of a professor Mr. Campbell assisted people who might not otherwise have been able to afford legal services with a variety of issues, like obtaining Social Security Disability Insurance. At Vanderbilt he also participated in mock trial and the school's moot court competition. While in law school, Mr. Campbell served as an intern for federal District Judge Jorge Solis in Dallas, and Senior District Judge John T. Nixon in Nashville. He also served as an intern for Tennessee Criminal Court Judge Monte Watkins, and with the Tennessee Attorney General's Office.
Mr. Campbell graduated Phi Beta Kappa from Emory University in Atlanta, Georgia, where he received a Bachelor of Arts in Political Science and Economics. At Emory, Mr. Campbell was a contributor to the student newspaper and active in the Fencing Club and Model UN. Both in law school and college he volunteered with numerous organizations, especially those devoted to helping shelter dogs and cats. He enjoys spending time outdoors—especially biking, running, and swimming at the lake—and is an avid reader and concert-goer.
While originally from North Carolina, Mr. Campbell grew up in Plano, Texas, and graduated from Plano Senior High School.
Education
J.D., Vanderbilt University School of Law, 2016
Vanderbilt Journal of Transnational Law; Dean's List; Chancellor's Law Scholar; Christian Legal Fellowship; Vanderbilt Bar Association Community Service Committee; Labor and Employment Law Society; Phi Delta Phi; Moot Court
B.A. , Emory University, 2013
Phi Beta Kappa; Pi Sigma Alpha; Omicron Delta Epsilon; Honor List; Emory Scholars; Contributing Writer at The Emory Wheel; Model UN; Emory Fencing Club; PAWSitive Outreach
A.A., Oxford College of Emory University, 2011
Phi Theta Kappa; Alpha Epsilon Upsilon; Honor List; Oxford Scholars; Contributing Writing and Photographer at The Oxford Spokesman; Model UN; Club Secretary for College Bowl; POOCH
Jurisdictions Admitted to Practice Tennessee, 2016
Texas, 2017
Northern District of Texas, 2016
Eastern District of Texas , 2016

Professional & Bar Association Memberships
Texas Employment Lawyers Association
Member Since: 2017
National Employment Lawyers Association
Member Since: 2017
Articles
Article: "Riding a "Friendly Elephant"? How African Nations Can Make the Best of Economic Partnership with China, by Austin P. Campbell
Publication: Vanderbilt Journal of Transnational Law
Citation: 49 VAND. J. TRANSNAT'L L. 499
Year/Publication Date: 2016