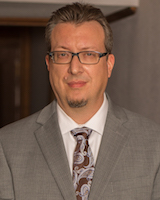 Roger Topham
Roger graduated with honors from the University of Texas School of Law. His note Attenuated Deterrence: How the Supreme Court Broke the Causal Chain Between Illegal Policing and Evidence Exclusion was published in the Spring 2017 edition of the Texas Journal on Civil Liberties and Civil Rights.
While in law school, Roger was an editor on TJCLCR. He also gained extensive experience in the areas of civil rights and public service through the school's Civil Rights Clinic, as well as internships at the Texas Civil Rights Project, the Travis County District Attorney's Office, and the plaintiffs' employment law firm, Kator, Parks, Weiser & Harris.
Prior to attending law school, Roger produced and directed The Sweetest Swing in Baseball, by Rebecca Gilman, at Hyde Park Theatre in Austin, Texas, in 2006. He also worked for a number of years in the service industry, including as a general manager at the iconic Mangia Pizza.
Protecting one's rights as a citizen is the most important function of law. Roger is all too familiar with the inequities created by uneven bargaining power in the world of employment; he is excited to have the opportunity to provide a counterbalance on the employees' side as a trial attorney at Rob Wiley, P.C.
Education
J.D., The University of Texas School of Law, 2017
B.A., New College of Florida