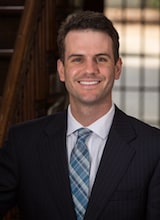 Eric Dama
Eric Dama is a trial attorney in the Dallas office of Rob Wiley, P.C. Mr. Dama received his law degree from Baylor University School of Law, where he completed Baylor's renowned Practice Court program. There, Mr. Dama received extensive litigation and trial training from some of the best trial lawyers and judges in the country. He further demonstrated both his oral and written advocacy skills in various moot court and negotiation competitions through the country, most notably in the New York University National Immigration Law Competition and the National Sports Law Negotiation Competition. Having served in several leadership positions including Class President, Mr. Dama understands the importance of being able to represent clients in more than just the courtroom.
Mr. Dama graduated summa cum laude from the University of Oklahoma with a bachelor's degree in journalism. With years spent writing for the university newspaper as well as city newspapers in both Texas and Oklahoma, Mr. Dama utilizes his natural storytelling ability to relate his clients' stories to the judge and jury.
Mr. Dama also believes in service to the community. He has volunteered at numerous organizations and schools including Big Brothers/Big Sisters and Bell's Hill Elementary School in Waco, Texas.
Mr. Dama is licensed to practice law in the state of Texas. He is admitted to practice in federal court and all state courts in Texas. Additionally, Mr. Dama is a member of the Dallas Bar Association – Labor and Employment Section, and the Texas Young Lawyers Association.