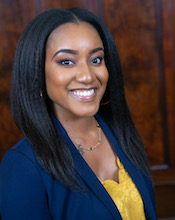 Diamond Williams
Legal Assistant
Diamond Williams is the Legal Assistant in the Dallas office at Rob Wiley, P.C. and is the primary point of contact for client meetings and concerns. Ms. Williams directly assists the attorneys at Rob Wiley, P.C. and handles various administrative affairs including overseeing the daily operations of the firm. Ms. Williams understands that clients are often in distress when they arrive at our office and is dedicated to ensuring clients' needs are met beyond their expectations.
Ms. Williams is from Dallas, Texas and earned her Bachelor of Arts degree in Psychology with a minor in Women's Studies in 2017 from Texas Tech University. During her educational career in Lubbock, Ms. Williams was formally recognized for her academic achievements, earning herself a spot on the University President's and Dean's list for five semesters. Ms. Williams was also the recipient of Texas Tech University's P.R. Price Scholarship & R.E.A.L Leadership Completion award. Ms. Williams participated in various organizations and leadership programs in her undergraduate career including the Study Abroad Program where she studied Spanish in Seville, Spain and the President's Congressional Internship Program where she worked for a U.S. Congressman on Capitol Hill in Washington, D.C.
Ms. Williams is driven by her passion for understanding and helping others. Beyond her career at Rob Wiley, P.C., Ms. Williams is planning to attend Law School in the Fall, 2019.
Education
Texas Tech University, 2017
Vice President of Complex Council Vice President of TTU NAACP Chapter
TTU Washington D.C. Congressional Internship
Featured Volunteer Activities
Boy's & Girl's Club of Lubbock
Mentor Tech