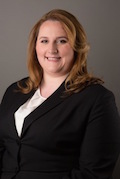 Allison Reppond
Allison C. Reppond is a trial attorney with the Dallas office of Rob Wiley, P.C. Prior to joining the firm, Ms. Reppond worked for a plaintiffs' civil litigation firm, where she focused on zealously advocating for injured individuals in personal injury, medical malpractice, and commercial cases. Ms. Reppond brings to the firm a long-standing passion for representing the rights of workers in labor and employment disputes.
Ms. Reppond is a proud Baylor Bear who received her bachelor's degree in Religion from Baylor University. Ms. Reppond continued her education at Baylor and went on to receive her law degree with honors from Baylor University School of Law. Ms. Reppond honed her advocacy skills through participation on moot court teams at the Chicago Bar Association Moot Court Competition, where her brief earned the Third Best Brief award, and the Federal Bar Association Thurgood A. Marshall Memorial Moot Court Competition. Ms. Reppond also gained invaluable legal research and writing skills as a member of the Baylor Law Review, where she served on the editorial board as Senior Articles Editor. During her time at Baylor, Ms. Reppond further developed crucial litigation and trial skills through Baylor's rigorous Practice Court Program.
Ms. Reppond was born and raised in West Monroe, Louisiana, but made it to Texas as quickly as she could. She is active in serving the Dallas-Fort Worth community as a member of Attorneys Serving the Community. Ms. Reppond is also a member of the Dallas Bar Association and the Dallas Association of Young Lawyers, where she serves on the Aid to the Homeless, Animal Welfare, and Judiciary Committees.
Ms. Reppond is licensed to practice law in Texas and is admitted to practice in all Texas state courts, as well as federal courts in the Northern and Eastern Districts of Texas.